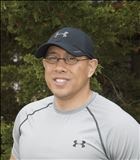 Norman Aro
Norman Aro has been a certified personal trainer for over seventeen years. He is the Head Personal Trainer at Fitness Elevations and has been with the gym for the past four years.
Norman began his career as Head Trainer to Planet Fitness in North Dartmouth. Norman currently has his Personal Training certification from ACTION. He has a B.S in management with concentration in Human Resources from the University of Massachusetts Dartmouth. In 2015 Norman received certification in LROME, Limited Range Of Motion exercises, which has become one of his passions.
Norman's philosophy in training is to focus on applying fitness, with particular application of resistance training, to improve quality of daily life and health. He specializes in working with the retired population, but enjoys training with members of all levels.
His favorite quote is from the notorious John Wayne, "Courage is being scared to death, but saddling up anyway."